Green Building rating recommendations: How it is helping us during COVID-19?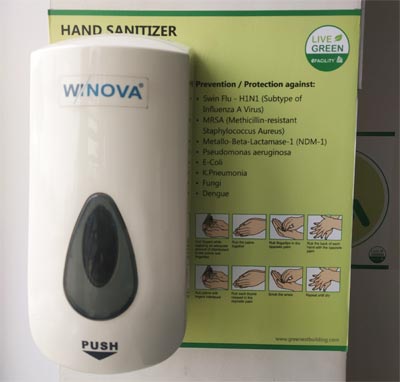 When we embarked on our green building journey, as a building owner and as an occupant who may spend half my lifetime in this building, the importance of reducing the operational costs and making the ambience healthy was my key interest. At this time, grappling through the worst pandemic that I have seen in my lifetime, some of the decisions that I made influenced by the LEED rating system's green building certification requirements flashed in my mind giving a sense of gratification and validation.
Before the 21-day lockdown was announced, there was a lot of uncertainty on how this COVID-19 pandemic was heading and fear started gripping our people. The awareness and importance of using hand sanitizers and washing hands frequently set-in to most people.
Hand Sanitizers
Thanks to the LEED requirements for Green Buildings, we had installed hand sanitizer dispensers in all the floors of our building which came into good use. While the usage was very minimal over the years it spiked very high during the pre-lockdown period.
Sensor operated Hand-wash Taps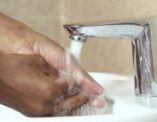 As part of our water-saving initiative, we had installed sensor-operated taps in our cafeteria and all toilets fitted with aerators. These taps gave a better sense of hygiene and the aerators continued to save a lot of water as the usage tripled as people were recommended to wash hands more often as a precaution.
Steam Cleaners
We wanted to reduce the water used for floor cleaning (as our floors are predominantly uncarpeted), control the dust during cleaning and avoid chemical detergents as per LEED requirements. The topic "LEED and Human Health" led us to the awareness of the usage of UV cleaning devices to reduce the germ loads on all high-touch surfaces like all countertops and fixtures in bathrooms, kitchens and dining areas, doorknobs and handles, light switches and elevator buttons. We couldn't find any commercial UV cleaning equipment in India at that time and further search led me to Steam Cleaning. The steam cleaners save 75% water, there is absolutely no rise in the dust during cleaning, uses just plain water (no detergents) and more importantly generates dry steam reaching up to 160°C that kills 99.99% germs (better than powerful chemical disinfectants). We were so happy and impressed with steam cleaning and went ahead implementing the same. Today we feel good that our high-touch surfaces, floors, toilets, kitchen and dining areas get disinfected every single day, using just 1/4th water and absolutely no chemicals. When COVID-19 started spreading, I checked on the precautionary measures to be taken at offices and I found that steam cleaning is more effective than all other forms of disinfection as it even kills the germs settled in joints/cracks where regular methods fail.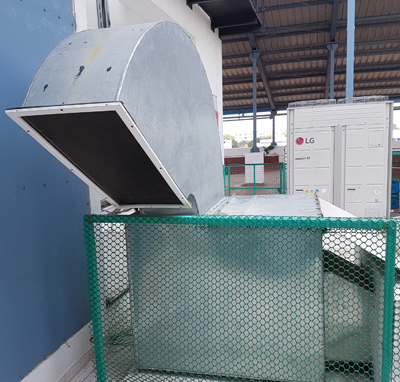 Ventilation
Ours is a software development centre that is densely populated and air-conditioned which makes it precarious for seasonal flu and cold to spread easily. The LEED requirement based implementations to provide enhanced fresh air supply, usage of MERV 13 filters for reduced dust levels, monitoring of PM 10 and PM 2.5 levels (particulate matter) is today helping us reduce the spread of all airborne infections and improve the lung capacity of our people over a period who get to breath high-quality fresh air with very low dust levels. To ensure less energy usage, our filters are cleaned more often, systematically. All this made us feel safer during the pre-lockdown period.
Close to office accommodations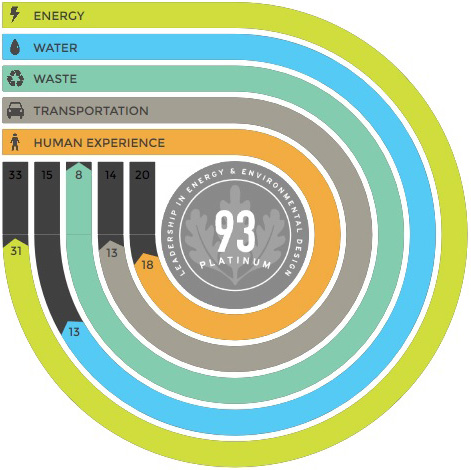 We use the U.S. Green Building Council's Arc Skoru platform that helps us to benchmark our green building's performance against all similar buildings across the globe. The survey performed for this purpose captures the distance traveled by our occupants which impacts the carbon emissions due to staff commute to work. This made us look into this aspect seriously and we started providing walkable subsidized accommodations very close to our office and also incentivize people moving to closer neighborhoods. We also set up an in house cafeteria to provide subsidized healthy food to avoid people movement for lunch.
A week before the lockdown, the availability of public transportation reduced and restaurants were closing, but our operations weren't hit much since most didn't have any difficulties to reach office or have problems with the availability of food.
The lockdown was finally official. What was said to be a 7-day lockdown, was extended to 21 days.
Touch-free Lighting & HVAC controls
The lighting at our facility switches-on/off automatically based on the occupancy detection and LUX level detection ensuring that there is no manual intervention needed. The indoor air conditioning units are again automatically operated based on the entry/exit of people detected by the access control systems. Our employees use our eFACiLiTY® Smart Building Controls app if they want to operate their lights and air-conditioners manually. Our facility is void of switch controls or remotes reducing the possibility of infection spread through high-touch surfaces. The automation was implemented primarily as an energy-saving initiative.
Fully Automated Building
Our plants need to be watered regularly, the security of the premises has to be taken care, the air conditioning system should run properly to ensure that the data centre is not affected, the fire alarm, security systems should operate flawlessly, in case of any power failure the diesel generator should kick-in and we should be intimated well in advance if the DG set is set to run out of fuel.
eFACiLiTY® Building is one of the most automated buildings in the world and this was designed primarily to save on the resources. Owing to the full-fledged automation, all these requirements during this lockdown are fully taken care without the need for anyone to visit the office. Today, our facility is running on autopilot with absolutely no physical intervention and our facility management team remotely monitors if all systems are performing at its best. Our solar arrays continues to generate power efficiently, enhanced by the automated cleaning process.
The fresh air supply is operated for a few hours every day even though there are no occupants to ensure that the building doesn't become polluted with stagnant air in which bacteria thrive making it unsafe when we resume operations.
PS: Our eFACiLiTY® Building is rated as the World's 2nd Greenest Building under the LEED NC v2009 rating system and we are extremely happy that we chose the LEED rating system for our validation.
Hashtags:
#LEED #USGBC #GBCI #Covid19 #coronavirus #OfficeBuildings #eFACiLiTYBuilding #eFACiLiTY #greenbuilding #SteamCleaning #sustainability #sustainablebuilding #LivingStandard