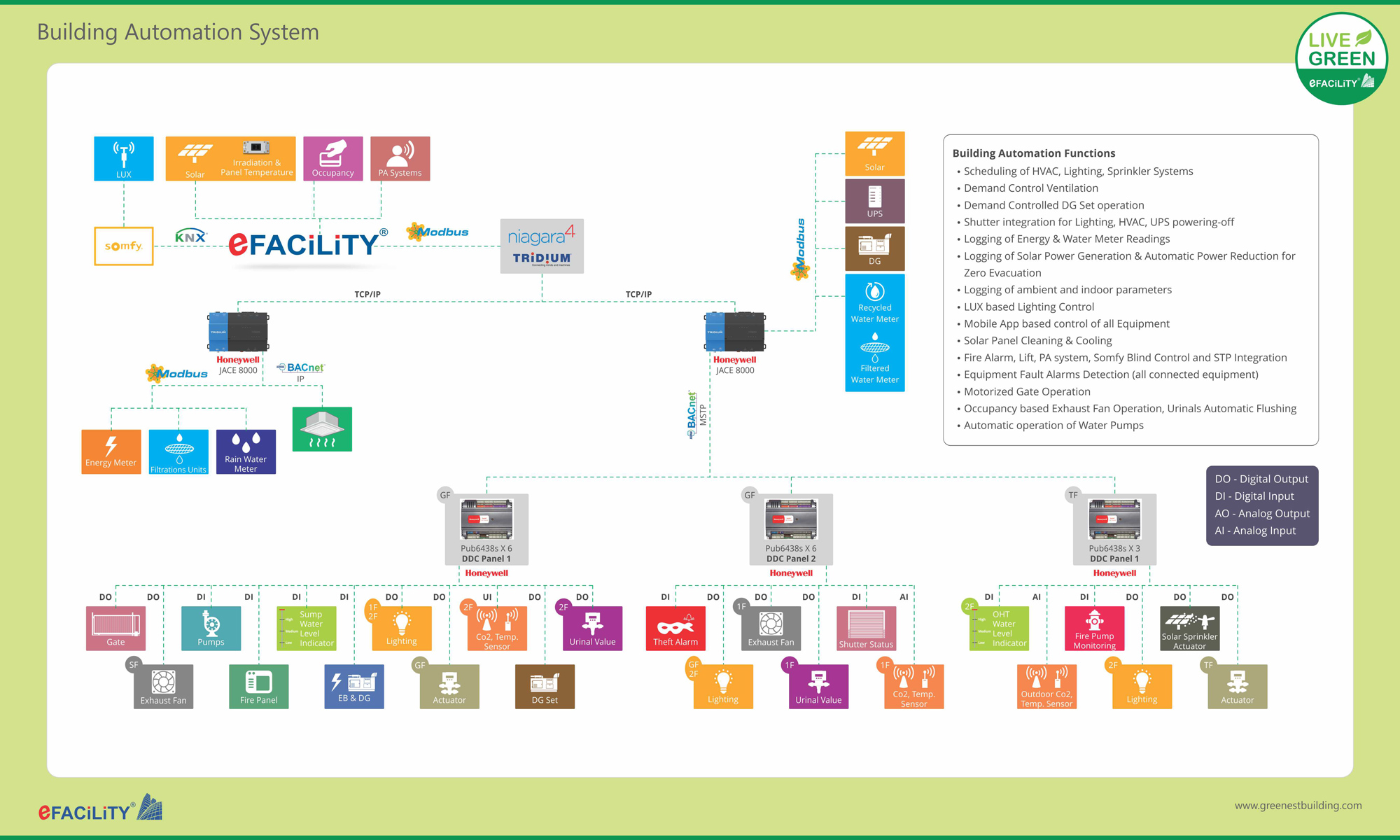 A building management system (BMS) or building automation system (BAS), is a computer-controlled system that can be used to monitor and automate the operations by integrating it with all type of electro-mechanical equipment in a facility covering heating, ventilation and air-conditioning systems, lighting, power systems, indoor and outdoor sensors, fire protection systems, access control, CCTV, plumbing systems etc.
SIERRA being an expert solution provider for the facilities management domain, has integrated every single system implemented in the eFACiLiTY® Building with the building automation system from Honeywell along with its eFACiLiTY® – Facility Management System to make it one of the smartest buildings in the planet.
The following automation functions have been showcased in the building:
Scheduling of Air-conditioning, Lighting, Sprinkler Systems operation
Demand Control Ventilation
Demand Controlled DG Set operation
Main Shutter integration for Lighting, HVAC, UPS powering-off
Logging of Energy & Water Meter Readings
Logging of Solar Power Generation & Automatic Power Reduction for Zero Evacuation
Logging of ambient and indoor parameters
LUX level-based Lighting Control
Automatic Water Pumping
Mobile App-based control of all Equipment
Solar Panel Cleaning & Cooling
Fire Alarm, Lift, Public Address system and 'Somfy' Blind Control
Equipment Fault Alarms Detection (all connected equipment)
Motorized Gate Operation
Occupancy based Exhaust Fan Operation, Urinals Automatic Flushing
Automatic operation of Water Pumps
The latest Tridium Niagara N4 software has been deployed for this automation and multiple protocols like BACnet, Modbus, KNX etc. have been used for these integrations.